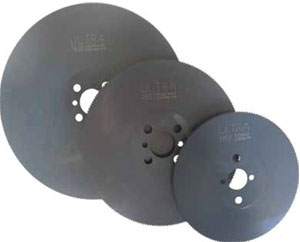 UTILISATION : Lames adaptables sur toutes les machines a tronconner (respecter l'alesage), pour la coupe des aciers et metaux non ferreux. Lubrification pendant la coupe recommandee. Attention : vitesse maxi 600 tr/min



USE : Fit all types of cut off machines according to shaft diameter. For cutting steels ans non-ferrous metals. Use coolant.

CARACTERISTIQUES : : Acier rapide HSS trempe et revenu avec traitement anti-grippage, DM 05 Profils de denture et precsion d'usinage donnant a nos fraises scies



CHARACTERISTICS : HSS all hard. Special anti-bonding surface coating. Longer life for precise machining and special tooth shape.